This error happens frequently in Backup Exec 12.5 and Backup Exec 2010. Live Update cannot find any installed products to update. Here is the text of the error message:
LU1805: LiveUpdate was unable to find any products to Update
There are no products on this computer than can be updated by LiveUpdate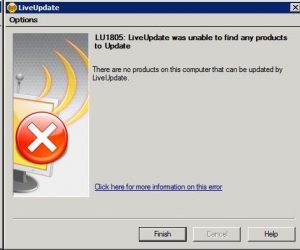 This is a nuisance but is easy to remedy with a quick command line argument:
C:\>"C:\Program Files\Symantec\Backup Exec\BEUpdateOps.exe"
After running the command, you should see this popup:

I have to run this command every few weeks. LiveUpdate seems to be flaky, it works fine for several days, then stops working, works fine after a few reboots, then needs to be registered after each reboot several times in a row (etc..). I don't know why this happens, I hoped that the upgrade to Backup Exec 2010 would fix this issue, but it did not. You can make a batch file to run this, or it could easily be scripted to run at startup.